Coffee really cheers me up, so for an extra special boost this week I decided to make a whole cake flavoured like coffee.
The actual cake itself was pretty good and I'd make it again with a few adjustments. You can find the recipe I used below. I'd recommend not using the cinnamon (the whole cake tastes like cinnamon chocolate, not coffee chocolate in my opinion!), using vanilla or plain almond milk instead of chocolate, and using less almond milk and more coffee. The icing tasted absolutely perfect; it was a fantastic mix of sweet and espresso. Next time I would add just a little more coffee to make it spread easier, but that depends on which brand of margarine you use.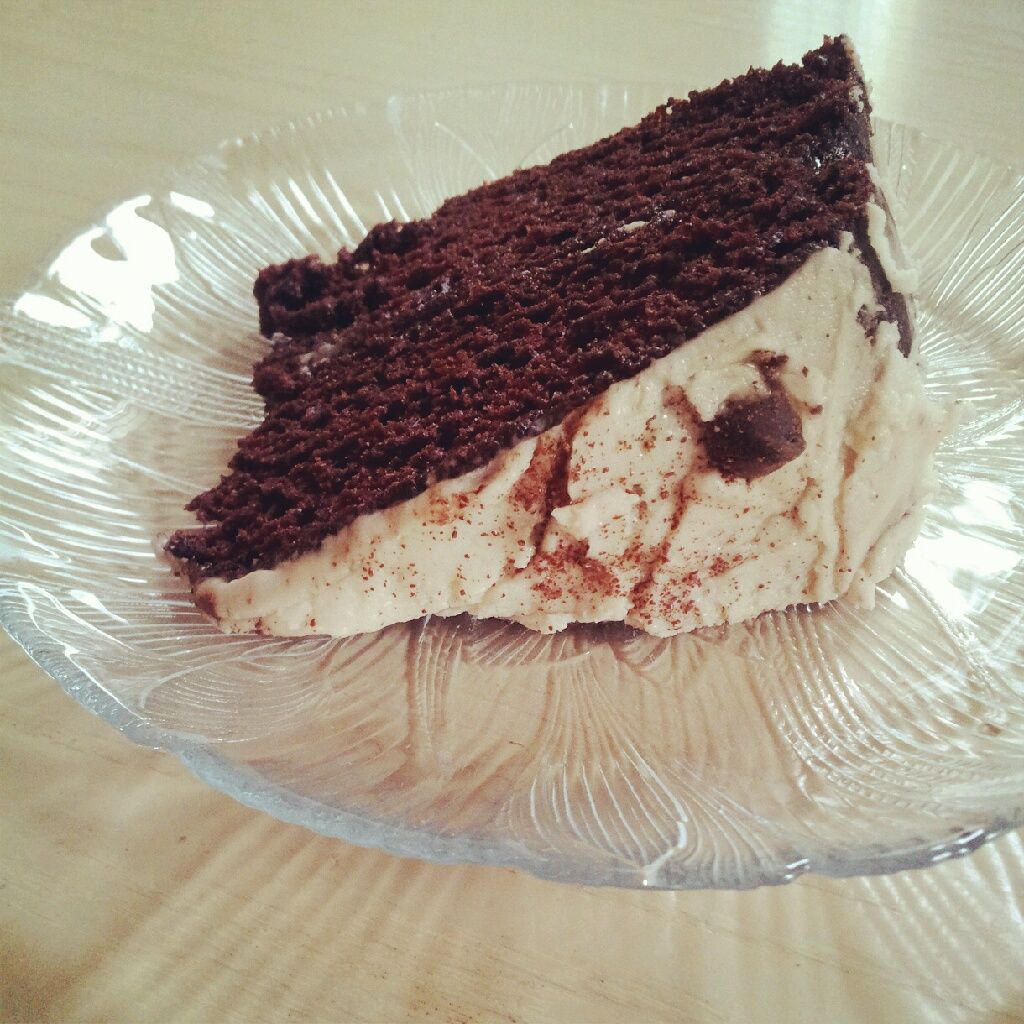 The original cake recipe from Heather can be found here. The frosting recipe can be found in the book "The 100 Best Vegan Baking Recipes" by Kris Holechek. I have slightly modified both recipes. :) The picture above is how my cake turned out! <3
Cake Ingredients
3 cups flour
8 tbsp of cocoa
2 tsp baking soda
2 tsp baking powder
1 tsp salt
1 tsp cinnamon
2 cups vegan sugar
12 tbsp vegetable oil
2 tbsp white vinegar
2 tsp vanilla
1 cup strong cold coffee
1 cup chocolate almond milk
Frosting Ingredients
3 tbsp vegan margarine
1 tbsp vegan shortening
1/2 tsp vanilla
2 1/2 cups vegan powdered sugar
3 tablespoons strong coffee
handful of vegan chocolate chips
(optional!)
Recipe
1. Preheat oven to 350 degrees and oil two round baking pans.
2. Sift all dry ingredients together in a large bowl.
3. Pour all wet ingredients into dry, starting with vinegar, vanilla, and oil. Do not stir yet! Pour coffee and almond milk over everything, then blend together until smooth. It is okay if it begins to froth.
4. Pour into pans and bake for 30-35 minutes.
5. Let cool for 10 minutes before icing!
6. To make icing, blend margarine and shortening together in a bowl.
7. Blend in vanilla then powdered sugar in small amounts.
8. Blend in coffee. You can add more or less coffee to get the desired thickness. 9. Ice the cake! Put icing in the middle of the two layers and on top.
10. Use chocolate chips to decorate or grate them to sprinkle over top.